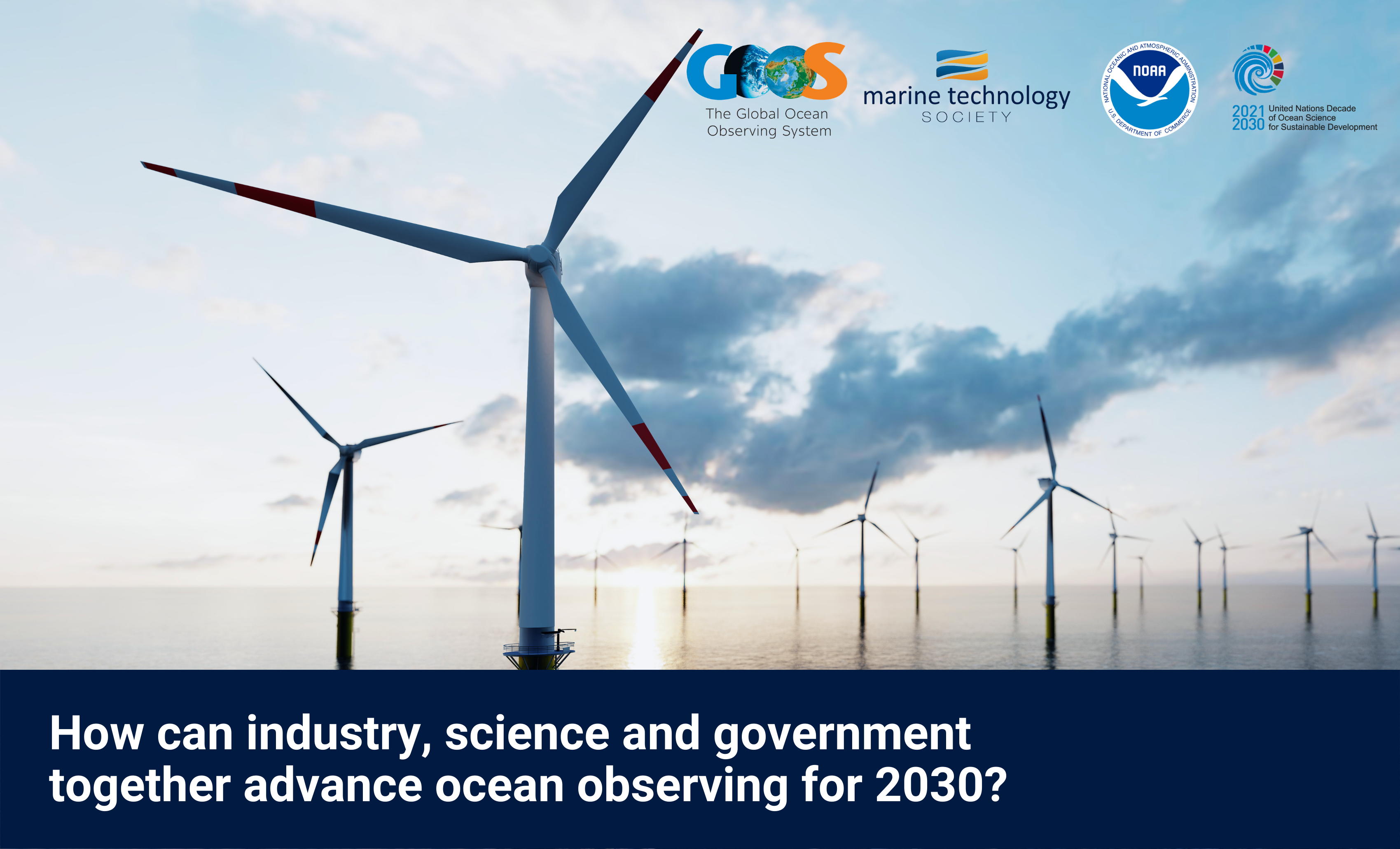 The Global Ocean Observing System (GOOS), Marine Technology Society (MTS), and the National Oceanic and Atmospheric Administration (NOAA), and industry partners are launching, a new Ocean Decade action - a forum for compact and meaningful 'Dialogues with Industry'. The goal of these dialogues is to develop ACTIONABLE recommendations, through interaction between new and established companies, academia, and government, on how the public and private sectors can evolve an expanded and multi-sectoral Global Ocean Observing System, to meet the needs of science, society and the Blue Economy. 
Through a successful and thriving mix of the public and private technologies and players, Dialogues with Industry will aim to dismantle barriers and highlight opportunities towards achieving a mature, vibrant ocean observing enterprise.
What will Dialogues with Industry do?
Define principals for engagement around issues such as open data

Mature the market, enabling more rapid market growth, speed of new technology implementation and lowering the cost of ocean information service delivery

Develop mechanisms for information sharing across government, science and industry

Lower barriers and highlight opportunities to act together for mutual benefit
Background
Read the executive summary in preparation for participation in the Dialogues. 
Dialogues
Join us for one or all of the dialogues:
Format
Each dialogue will be carried out in a format of a 3 hour facilitated discussion which will have a moderator, participants and observers.
Participants:
Around 25 participants will be invited to attend each dialogue and will represent the public and private sectors along with specific disciplines for each session. The moderator will interact with the participants via discussion and chat functions, and the participants will also provide their input to the post-dialogue report. 
Observers:
Up to 500 observers will be able to participate in the dialogues through the chat function and then verbally for the last 35 minutes. The draft of the post-dialogue report will be available for observers to provide comments.