2021 NATIONAL OCEAN SCIENCE BOWL CHAMPIONS ANNOUNCED - CONGRATULATIONS TO DOUGHERTY VALLEY HIGH SCHOOL IN SAN RAMON, CA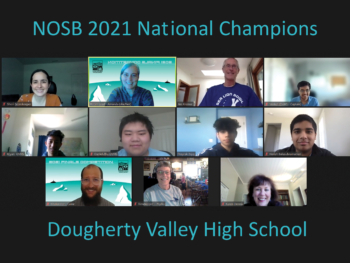 MTS is a proud sponsor of this event, and we are honor and celebrate the top eight teams from the finals competition. Congratulations to all!
The top eight teams at the Finals Competition were:
1st Place – Dougherty Valley High School (San Ramon, CA)
2nd Place – Lexington High School (Lexington, MA)
3rd Place – Canyon Crest Academy (San Diego, CA)
4th Place – Santa Monica High School (Santa Monica, CA)
5th Place – Tesla STEM High School (Redmond, WA)
6th Place – Saline High School (Saline, MI)
7th Place – Oxford High School (Oxford, MS)
8th Place – Edwin O. Smith High School (Storrs, CT)
In addition to the modified, virtual buzzer rounds, teams also presented science recommendations on a piece of legislation (the Seal Act) in the Science Expert Briefing (SEB), a mock congressional hearing that enhances the critical thinking elements of the competition and focuses on real-world skills. Thomas Jefferson High School for Science and Technology (Alexandria, VA) won this portion of the competition, while Juneau Douglas High School (Juneau, AK) came in second and Saline High School (Saline, MI) came third.
Recordings of the 2021 Opening Ceremony, GeoCollaborate field trip, and Awards Ceremony can be viewed on the NOSB's YouTube channel.
Share this post: